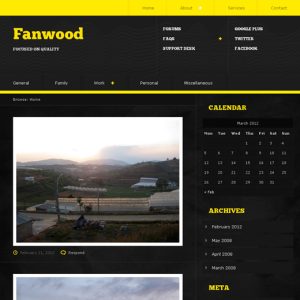 A couple of days ago, I posted about a new theme I'm working on. Today, I finally have something to show and announce.
The following is a partial preview. Screenshots were taken from several live demos. For those not digging the black and yellow design, it's just the base style. Soon after the initial release, I'll work on more designs or child themes for you to pick from.
You'll get to play with the real thing come 6:00 AM (ET), Tuesday, March 13, 2012. I tried to push it for a release this week, but I still need to prepare promotional materials and documentations.
12 Optional Layouts
By default, Fanwood is a two-column layout with a right sidebar, which is typical of any blog. However, if your WordPress powered site is more than just a blog, if it's a magazine, message board, online store, social network, events manager, or even a real estate property listing site, turn on the other 11 layouts. Below are previews of only the most important or visually significant options.
The 12 layouts are all mobile compatible. You may set a global layout for the entire site then set custom layouts for selected posts and pages. Integrated plugins like bbPress and BuddyPress are able to use the layout options too. There are global layout options for bbPress and BuddyPress as well.
Drop-Down, Fly-Up, Fly-Out, and Mobile Compatible Menus
Fanwood has seven usable menus. All of them are responsive or mobile friendly. Are you tired of me saying that yet? Everything about this theme is mobile friendly so I can stop saying that now right?
bbPress Preview
bbPress integration in Fanwood uses no tables. This is good for consistent content presentation, mobile compatibility, and future proofing. bbPress 2.1 (to be released) will be using un-ordered lists to display information. Fanwood is hip to this, wink, wink. Now, you can start a flame war on your own message board while you're on the go.
BuddyPress Preview
BuddyPress integration in Fanwood alone is worth the price of the theme ($1.29). Developers, please show your support in the comments! I've tried as hard as possible to leave no stone unturned. It was a tedious process, but I did it. I've even styled the compose message acfb-holder and ac-results if you know what I'm talking about.
Again, this is a partial preview. I haven't even showed you the 18 widgets area, widget stacking, Jigoshop integration, Anything Slider integration and the features list goes on. It'll get even more crazy awesome when I start releasing more designs for Fanwood.
So many features make for one bulky theme you say? Not really, the stuff you use is the stuff that gets loaded. For everything else, it sits there until it's activated.
Everything I've learned and all of my ideas in the last 4 years have been put into Fanwood. Next Tuesday, you can get it for $1.29 (as cheap as an MP3 file on iTunes). Fanwood is a the first of its kind on many fronts. It's a special project so please show your support in the comments, on Twitter, and etc. to make it a success next Tuesday, March 13, 2012. Thank you!